You're Invited!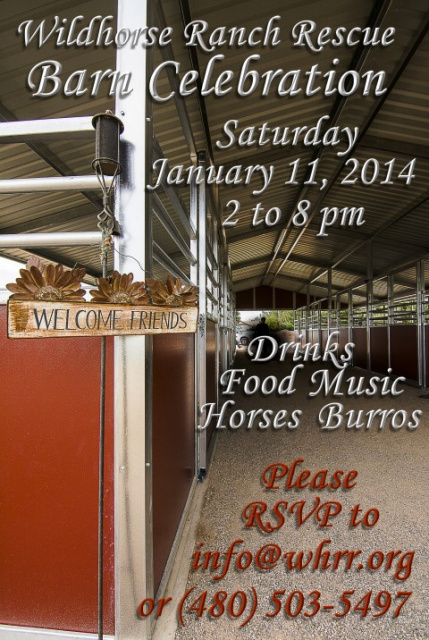 See a short clip of our Barn Raising! Thanks to Lori Murphy!
Please check our Upcoming Events for times when you may visit the ranch.
For your safety and the safety of our rescued equines, please do not show up at the ranch during non-public times or without an appointment.
We appreciate your consideration.
Wildhorse Ranch Rescue Interview
on KDKB 93.3
https://soundcloud.com/wildhorseranchrescue/kdkb-interview-with-wildhorse
Please join us in our New Barn Project!

Everyone that helps us reach our goal of

$30,000

will get their name engraved

on a silver name plate that will be posted in

the New Barn and will be invited to the

HUGE Celebration

We'll have music, drinks and food.
A cute video of some of the rescued herd, playing in the water by Nick Stabek
Our Mission Statement:
To save animals from abuse, neglect, slaughter and premature death and provide a safe place for them to live for the remainder of their lives.
Our Programs:
Equine Rescue – Wild Mustangs, All domestic equines, Retired US Forest Service Equines, US Cavalry Horses and any equine in need of help.

HavasuPup – We rescue the unwanted puppies and kittens from Havasupai Grand Canyon, Havasupai Falls.

KittyCity & Majestic Gardens consists of our feral and tame cat colony, located at the ranch. All cats are spayed/neutered.
History:
Wildhorse Ranch Rescue was started in 1995 by Kim Meagher (pronounced Ma-her), an employee of Intel Corporation. She and her two young children, Nick and McKay, accidentally found out about the plight of homeless horses in the United States. Once they knew that over 60,000 horses in this country are sent to horrible deaths each year, they knew they had to do something to help. They rescued horses privately from 1995 until 2000. But even with their efforts, they could not save very many horses. Kim applied for, and received non-profit status for Wildhorse Ranch Rescue (WHRR) and with the help of many people, WHRR has been able to help save many horses from death, abuse and neglect.
Wildhorse Ranch Rescue also takes in retired United States Government horses and mules from the Payson Forest Service, Alpine Forest Service and the United States Cavalry. WHRR provides an opportunity for these hardworking animals to live in peace and comfort in their golden years.
WHRR is a registered 501(c)3 organization with the Federal Government and in the States of Arizona. All donations are tax deductible as allowed by the IRS.
Here are the horse statistics for
Wildhorse Ranch Rescue, Inc.
We have helped save the lives of over 123 horses

We have adopted out 39 horses

We currently have 14 equines in residence and
we have 5 horses in foster care
Where did the name Mudpony come from?
Officers & Board of Directors
Kim Meagher (pronounced Ma-Her) - Founder and Chairman
Ritchie Rhinehardt - Officer/Secretary
Dany Schott - Vice Chair & Director of the HavasuPup Program
Roger Cardillo - Director
Rhona Melsky - Director of Public Relations

Management
Celeste Johnson - Kitty City and Majestic Gardens Manager
Laurie Guenther - Herd Health Manager
Gina Sperke - Volunteer Manager
Jayne St. Germain - Feed Team & Therapeutic Grooming Manager
Emily Williams - Feed Supply Manager




Advisory Board:
Dr. Tresha Robinson
Sandy Gennaro
McKay - Art and Logo Design
Nik Stabek - Events & Marketing
Shannon Alexandra - Events & Marketing