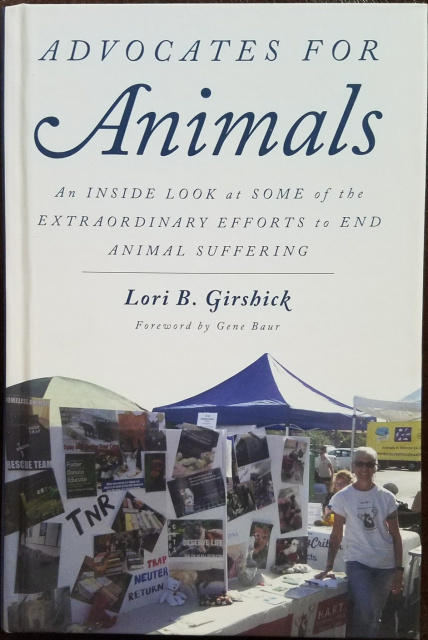 Book Signing with Dr. Lori Girshick
April 20, 2019 1 pm to 3 pm
Wildhorse Ranch Rescue
11811 S Lindsay Road Gilbert, AZ 85296
Local animal rights activist, Lori Girshick, wrote Advocates for Animals: An Inside Look at Some of the Extraordinary Efforts to End Animal Suffering based on interviews with 204 individuals who volunteer or work to help animals. Many are local advocates, but they also come from across the US and even other countries. They do every kind of animal-related care, as well as founding sanctuaries and rescue organizations, TNR, and vegan outreach. Each chapter has stories from these interviews about how we started, what we do, why we do it, and how it impacts us, and then some animal issue is focused on which also educates the reader. Topics range (for example) from feral cats to dog fighting to horse rescue to factory farming and the environment. Lori will read sections of her book in this event and attendees are free to ask questions or discuss the issues. Signed paperback books will be for sale afterwards (price: $25). A portion of the proceeds will be donated to Wildhorse Ranch Rescue.
Lori has been a vegan for 37 years and an animal rights activist longer than that. She has been a WHRR volunteer for over 10 years. Compassion is central to her personal philosophy, and an end to speciesism is part of that. Now a retired a sociology professor, all her time is dedicated to helping individual animals (especially cats) and helping to transform our relationship with animals on a cultural level.